What is Relatos en Territorio?
Relatos en Territorio is a laboratory for audiovisual creation that aims to generate learning processes around documentary photography and visual narrative; in addition to promoting the development of collective projects, fostering the creation and expansion of networks for visual creators and strengthening photography as a social document.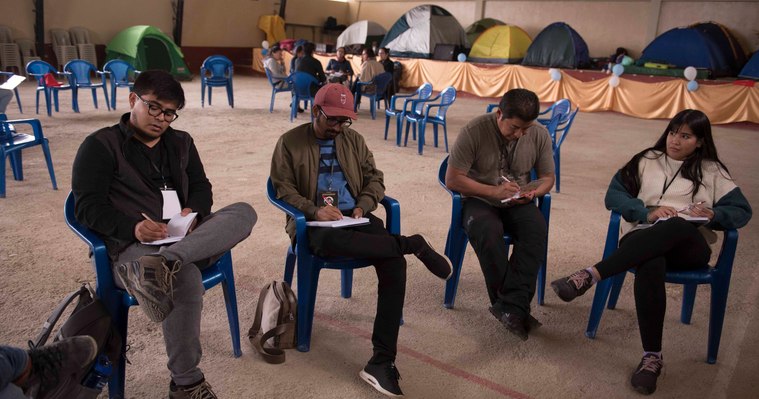 How is it designed?
The design of this experience is based on a transversal axis of integral learning in which all participants (tutors, students, production and community) intervene horizontally during the development of documentary projects in different communities and territories of the country.
The mission of Relatos en el territorio is to break the barrier of photography as an instantaneous and individual act, proposing to build from collectivity and diversity shared reflections through the image.
Relatos en Territorio Vol. II
Fluxus Foto held the second edition of its visual creation laboratory 'Stories in Territory' in Chuquiribamba, in the context of its festivities and while these were taking place, both the participants and the collective, had an approach to many of the moments that constitute the event of the festival, and its relationship with the spiritual, memory, identity.
CHUQUIRIBAMBA
Chuquiribamba is a rural parish of Loja Canton, located 50km from the city of Loja and has an altitude of 2700 meters above sea level. It has been declared a cultural heritage of Ecuador in June 2013.
Relatos en Territorio Vol. I
When you hear about the popular festivities of a place, you imagine their celebrations and you are intrigued to know them, something you have heard and observed in the media, but you want to feel for yourself that experience, you have questions about how they are, what the people do, why are the celebrations and how they live these celebrations. These were the questions with which I left Quito to Machachi to be part of the Documentary Laboratory "Relatos en Territorio", organized by the Fluxus Foto Collective.
Machachi
In July it welcomes visitors dressed in zamarros, ponchos, scarves and hats. Experience the most colorful chacarera festival in Ecuador.
This popular Ecuadorian festival takes place in July. It begins with the mass, and then continues with the parade of the bull pulled by four ropes and driven by skilled chagras.